Try the link: http://www.authorsaloud.com/fiction/homa.html
Ava Homa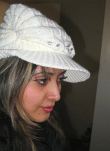 Ava Homa reads from her collection,
Echoes from the Other Land
Published by:
TSARbooks
Time of Reading:
5:34
Ava Homa is a Kurdish-Canadian writer-in-exile. She experienced war as a child and the aftermath of Islamic Revolution in adulthood (Kurdistan uprising, losing loved ones, economic crisis and inflation). Ava has two Masters, in Creative Writing and English Language and literature. Echoes from the Other Land, Ava's collection of short stories about resistance of modern Iranian women under the oppressive regime, was published by TSARbooks, Toronto. Ava's writings have appeared in English and Farsi publications including the Toronto Star and the Windsor Review. She was a writer and a member of faculty in Iran. In Toronto, Ava writes and teaches Creative Writing, English and ESL.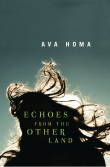 "Ranging across regions, ethnicities, genders, sexualities and political dispositions, Homa's characters give us a prismatic portrait of Iran that resists both internal tyrannies and Western demonization. Her style is elegantly spare, gem-solid. This is a voice we all need to hear."
—
Susan Holbrook, author of
Joy Is So Exhausting